GENERAL INFORMATION FOR STUDENTS
: Facilities for Disabled Students
GENERAL INFORMATION FOR STUDENTS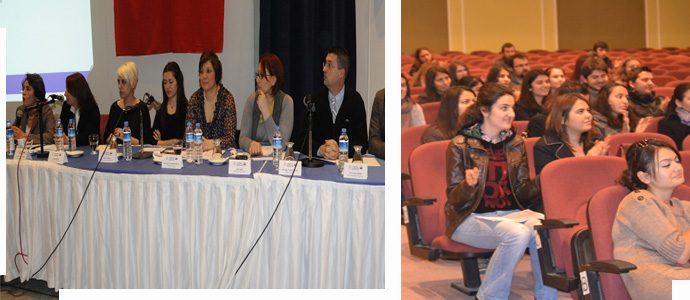 Facilities for Disabled Students
Dokuz Eylül University has built the Dokuz Eylül University Disabled Students Unit since 18.03.2009.
The aim of the Dokuz Eylül University Disabled Students Unit is to minimize the difficulties our disabled students will confront during their education, campus and dormitory life due to their disabilities and to provide coordination between the parties in interest with regards to remove barriers. The Unit designated creating opportunities as his objective in order to support disabled students, instructors and personnel and to give them equal access right. Moreover, it tries to increase awareness about disabilities in university.
If any (visible or invisible) health problem prevents a student's social and academic life in Dokuz Eylül University, this student is disabled. Types of disabilities w emay encounter are as follows:
• Visually impaired individuals
• Physically disabled people
• Attention Deficit Hyperactivity Disorder (ADHD)
• Learning disabilities
• Psychiatric/psychological problems
• Speech and language problems
• Hearing impaired people and deafness
• Traumatic brain injuries
• Other types of disabilities (like chronic diseases)
The student decides to report his/her disability to the Disabled Students Unit and to have it identified or not. Only the students identified will be supported by the Disabled Students Unit according to their will. Therefore, please transmit your papers related to your condition to us.
Should you need any academic adaptation due to your disability, please contact your instructor or our unit.
RESPONSIBILITIES OF DISABLED STUDENTS:
* To get in contact with the instructors to whose courses they are enrolled at the beginning of every semester, to inform them about their situation and needs.
* To examine the courses they took in accordance with adaptations they could need and to inform the Disabled Students Unit about the necessary adaptations.
* To deliver the report which is taken from official institutions and shows their present disability status in order to document they need an academic adaptation.
* To inform the Unit about the services they are provided or not provided by the department they study.
* To inform the Unit about the changes in status or contact information.
* To build a coherent and regular relationship with the Disabled Students Unit, instructors and academic advisors.